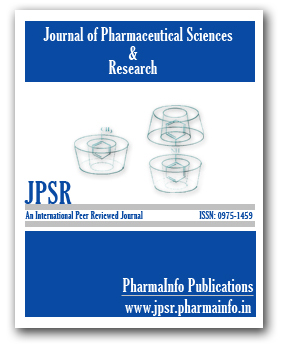 Custom Search
ISSN 0975–1459

Volume8, Issue 4 April 2016.

1.
A Identification of Flavonoids in Different Parts of Terminalia catappa L. Using LC-ESI-MS/MS and Investigation of Their Anticancer Effect in EAC Cell Line Model
Pages:176-183
Venkatalakshmi P, Vadivel V and Brindha P
Abstract | PDF (1100 K)
2.
A Comprehensive Review on in vitro and in vivo Models used for Hepatoprotective Activity
Pages:184-189
C.M. Afeefa., M. Surendra Kumar., Abdul Rasheed., V. Rajesh1., G. Babu and Ashif Anjukandan
Abstract | PDF (879 K)
3.
A Study on Impact of Clinical Pharmacist Interventions on Relationship between Treatment Satisfaction and Medication Adherence in Hypertensive Patients.
Pages: 190-197
Arun Mathew, Venkat Paluri, Venkateswaramurthy. N
Abstract | PDF (936 K)
4.
5.
6.
7.
8.
9.
10.
11.
12.
13.
14.