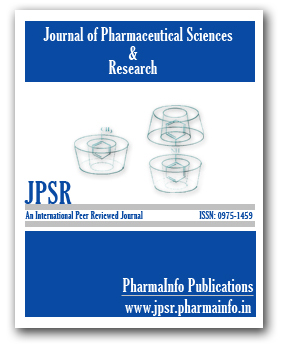 Privacy Policy
This Privacy Statement sets forth the information gathering, use, and dissemination practices of Journal of Pharmaceutical Sciences and Research, its parent, affiliate and subsidiary companies and its business units ("JPSR") in connection with the World Wide Web site located at http://www.jpsr.pharmainfo.in (the "Site"). This Privacy Statement addresses JPSR's practices regarding information collected only directly through or from the Site – it does not address or govern any information gathering, use, or dissemination practices related to information collected other than directly through or from the Site, including, without limitation, from or via telephone, facsimile, postal mail, personal delivery, or other or additional offline means or media. JPSR can be contacted at jpsronline@gmail.com
1. Collection of Personal Information from Site Visitors
JPSR may collect or track (1) the e-mail addresses of visitors that communicate with JPSR via e-mail, (2) information knowingly provided by the visitor in online forms, registration forms, surveys, e-mail, the "Contact Us" section of the Site, and other online avenues (including, but not limited to, demographic, business profile, and personal profile data), (3) the home server domain names, e-mail addresses, type of client computer, files downloaded, search engine used, operating system, and type of Web browser of visitors to the Site, and (4) aggregate and user-specific information regarding which pages Site visitors access.
JPSR may place Internet "cookies" on visitors' hard drives. Internet cookies save data about individual visitors, such as the visitor's name, password, user-name, shopping cart, screen preferences, and the pages of a site viewed by the visitor. When the visitor revisits the Site, JPSR may recognize the visitor by the Internet cookie and customize the visitor's experience accordingly. Visitors may decline Internet cookies, if any, by using the appropriate feature of their Web client software, if available.
JPSR Web pages may also contain electronic images known as Web beacons - sometimes called single-pixel gifs - that may be used to: assist in delivering cookies on our sites; allow JPSR to count users who have visited those pages; deliver co-branded services; gather, store, and track certain information related to your visit to and activity on a site (including but not limited to the IP address of your computer, the time the Web page was viewed, and the type of browser used). JPSR may include Web beacons in promotional e-mail messages or JPSR newsletters in order to determine whether messages have been opened and acted upon.
JPSR may also employ Web beacons from third parties in order to help JPSR compile aggregated statistics regarding the effectiveness of our promotional campaigns or other operations of JPSR sites. JPSR prohibits Web beacons on JPSR sites from being used by third parties to collect or access your personal information.
When a visitor performs a search within the Site, JPSR may record information identifying the visitor or linking the visitor to the search performed. JPSR may also record limited information for every search request and use that information to solve technical problems with the services available directly or indirectly in connection with the Site and to calculate overall usage statistics.
2. Use of Personal Data Collected
Personal data collected by JPSR may be used by JPSR for many reasons, for example, for editorial and feedback purposes, for product development, for content improvement, for fulfillment of a requested transaction or recordkeeping, for marketing and promotional purposes, for a statistical analysis of visitors' behavior, or to customize the content and layout of the Site. Aggregate data regarding visitors' home servers may be used for internal purposes, and individually identifying information, such as names, postal and e-mail addresses, phone numbers, and other personal information which visitors voluntarily provide to JPSR may be added to JPSR's databases and used for future calls and mailings regarding Site updates, new products and services, and upcoming events.
JPSR also may use Site visitor data to contact the Site visitors regarding account status and changes to the Terms and Conditions, Privacy Statement, End User License Agreement and any other policies or agreements relevant to Site visitors.
3. Disclosure of Personal Data to Third Parties
Aggregate data on visitor's home servers and individually identifying information, such as names, postal and e-mail addresses, phone numbers, may be provided to third parties such as marketing firms. JPSR may share the personal data you provide to us with other JPSR entities and/or business partners who are acting on our behalf to help us provide you with our products and services.
Personal information provided by users through the Site, will be used in the operation of the Site and in order to provide services requested. Any personal information provided by you on any forum or comments features may be read by other users, and could potentially be used by such third parties to send you unsolicited messages.
Identifiable and non-identifiable visitor information and data may be disclosed or distributed to another party with which JPSR enters or reasonably may enter into a corporate transaction, such as, for example, a merger, consolidation, acquisition, or asset purchase, or to a third party pursuant to a subpoena, court order, or other form of legal process, in response to a request by or on behalf of any local, state, federal, or other government agency, department, or body, whether or not pursuant to a subpoena, court order, or other form of legal process, or if determined by JPSR in its sole judgment that such disclosure or distribution is appropriate to protect the life, health, or property of JPSR or any other person or entity.
While JPSR may undertake efforts to see that any third party to which JPSR shares, rents, sells, or otherwise discloses personal data is under a contractual obligation to use the personal data solely for the purposes for which the data was disclosed, such third parties are independent third parties over which JPSR exercises no control. JPSR is not responsible for, and will not be liable for, the conduct, actions, omissions, or information handling or dissemination practices of third parties.
4. Security Measures
JPSR has implemented physical, electronic and procedural security features that are designed to prevent the unauthorized release of or access to personal information. Despite JPSR's efforts to protect your personal information, there is always a risk that an unauthorized third party may circumvent such procedures or that transmissions of your information over the Internet may be intercepted. The confidentiality of any communication or material transmitted to or from JPSR via this Site or via e-mail cannot be and is not guaranteed. Accordingly, JPSR is not responsible for the security of information transmitted via the Internet. Instead of communicating with JPSR via e-mail or the Internet.
5. Opt-Out Right
Except as necessary for JPSR to provide the services, information, or products requested by a registered user, the registered user may opt out of having personally identifiable information that has been voluntarily provided by him or her to JPSR through an account registration, or through an electronic news or information subscription, prospectively retained by JPSR, used by JPSR for secondary purposes, or disclosed by JPSR to third parties by updating your profile preferences on the Site. (This does not apply to collection of the type of Web browser of the visitor to the Site or to information provided or collected that does not meet the description in this Section 5.)
6. Access to and Ability to Correct Personal Data
Registered users can view their profile containing personally identifiable information retained by JPSR regarding the user, which information has been voluntarily provided by a visitor to JPSR through an account registration. A registered user may modify, correct, change or update their personally identifiable information by updating your profile preferences on the Site.
7. Right to Change Privacy Statement
JPSR may change this Privacy Statement at any time. Notice of any new or revised Privacy Statement, as well as the location of the new or revised statement, will be posted on the Site for at least 60 days after the change. It is the obligation of users returning to the Site to learn of changes to the Privacy Statement since their last visit. Any change to this Privacy Statement shall be effective as to any visitor who has visited the Site before the change was made.
8. Log Files
Like many other Web sites, www.ijpsr.info makes use of log files. The information inside the log files includes internet protocol ( IP ) addresses, type of browser, Internet Service Provider ( ISP ), date/time stamp, referring/exit pages, and number of clicks to analyze trends, administer the site, track user's movement around the site, and gather demographic information. IP addresses, and other such information are not linked to any information that is personally identifiable. 

9. Cookies and Web Beacons
www.ijpsr.info does use cookies to store information about visitors preferences, record user-specific information on which pages the user access or visit, customize Web page content based on visitors browser type or other information that the visitor sends via their browser.
10. DoubleClick DART Cookie
.:: Google, as a third party vendor, uses cookies to serve ads on www.ijpsr.info.
.:: Google's use of the DART cookie enables it to serve ads to users based on their visit to www.ijpsr.info and other sites on the Internet. 
.:: Users may opt out of the use of the DART cookie by visiting the Google ad and content network privacy policy at the following URL - http://www.google.com/privacy_ads.html 

Some of our advertising partners may use cookies and web beacons on our site. Our advertising partners include ....
Google Adsense
These third-party ad servers or ad networks use technology to the advertisements and links that appear on www.jpsr.pharmainfo.in send directly to your browsers. They automatically receive your IP address when this occurs. Other technologies ( such as cookies, JavaScript, or Web Beacons ) may also be used by the third-party ad networks to measure the effectiveness of their advertisements and / or to personalize the advertising content that you see. 

www.jpsr.pharmainfo.in has no access to or control over these cookies that are used by third-party advertisers. 

You should consult the respective privacy policies of these third-party ad servers for more detailed information on their practices as well as for instructions about how to opt-out of certain practices. www.ijpsr.info's privacy policy does not apply to, and we cannot control the activities of, such other advertisers or web sites. 

If you wish to disable cookies, you may do so through your individual browser options. More detailed information about cookie management with specific web browsers can be found at the browsers' respective websites.
Last modified on 08th July 2010